Employees are the heart of an organization. So, it is it very important not only to keep them happy by providing them good salary, incentives and outstanding workspace but in modern days it needs even more to show honor and gratitude employees for job well done. Now, it is important for you to figure out the best effective way to recognize employees that will not only inspire them but at the same time it will motivate them as well which will definitely bring good for your business. The point is very clear to us that "Employee should be Rewarded" at-least once a year.


Alternatively, you can celebrate employee success half-yearly and quarterly. It is completely up to you and your budget, how many times in a year you will arrange corporate award ceremony to congratulate best employees. But, if you don't bother too much about recognition of your employees then very soon your top performing employees will be demotivated and it will be not good for your business as well. After understanding the importance of employee recognition and appreciation, now the big question is what will be the ideal recognition option that will make recognition award ceremony a successful one.


There are several options you can choose to reward your special employees. Some Fortune 500 Companies love to use Crystal Awards while other Large Multinational organization mostly using Blown Art Glass Awards and other companies prefers Metal Trophies or Wooden Awards.


Which one will you going to buy for your next employee award function? Getting confused? Don't Worry! Let us make things clear with some helpful tips that will assist you to select best corporate crystal awards that suits nicely with your needs, budges and types of employee recognition event you are going to organize.


Yes! Crystal Awards and Trophies, the most popular and widely using corporate awards options ideal for employee recognition awards, appreciation awards, achievement awards, retirement gift awards, business awards and will fit nicely whatever the award event you are thinking to organize to celebrate employees success. Engraved Crystal Trophy Awards are gorgeous enough that will definitely impress your recipients and will inspire the entire workforce.


Well, if you are convinced with the shining and sparkling beauty of personalized crystal awards, trophies and plaques then here are the 20 important tips that you should always bear in mind while purchasing corporate crystal trophies and awards for your upcoming corporate award function.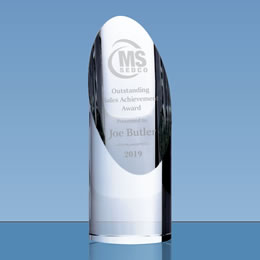 ---
1. Avoid Middle Man, Deal With Factory Direct Award Supplier
Try to buy crystal awards from manufacturer or directly from factory. As you will get your desired crystal awards & trophies at factory direct prices. Avoid middle man or distributor and in that way you can save lots of money.


2. Contact Award Manufacturer Early
If you are planning to buy custom awards then always try to contact with trophy suppliers well before of your award event to avoid last minute hassle. Award manufacturing time depends on the custom design and the quantities. Basically, it is advisable to move forward with the order at-least 15 to 30 days advance.


3.Buy More Award Trophies at Lowest Prices
"Buy More and Save Big" – While purchasing crystal corporate awards and crystal recognition trophies, 02 big ways you can reduce your budget.


a. Purchase directly for Trophy Manufacturer to gain Factory Direct Prices
b. Instead of buying small number of awards, better to order for large quantities and the per piece award price will be dramatically lowest. For example:


Blue Crystal Star Award – 16 Pieces – $75
Blue Crystal Star Award – 31 Pieces – $70
Blue Crystal Star Award – 50 Pieces – $55


The more quantities you buy the lowest prices offer by your supplier.


4. Get Free Sample on Bulk Award Purchase
If you are going to purchase bulk cr1ystal awards, ask supplier to send you a FREE Sample for your approval. In most cases award manufacturers send Free Sample of their own cost.


5. Order Trophy Awards in Bulk to Get More Free Service
Every time you purchase bulk crystal trophies and awards, you should receive:


Free Ground Shipping
Free Engraving
Free Setups
Free Presentation Box
Free Sample
Free Art Work / Paper Proof
Bulk Order Discount on Wholesale Price
Don't forget to ask your corporate award supplier about the above mentioned benefits.


---
6. Valuable Employees Deserves Costly Awards
Don't go for any cheapest option. Your employees are the heart of your organization. So, it is very important to keep them motivated by appreciating them for their hard work and dedication. Sometimes, a gorgeously designed optical crystal awards may cost you some more dollars but think like that your employees are generating thousands or even millions of dollar revenue by all their hard work and effort. So, spending some extra money for fantastic crystal trophy awards won't be a big deal for you.


7. Let Trophy Maker Start Manufacturing by Advance Payments
Keep in mind that after seeing the real sample and final art work, you need to deposit full payments to start manufacturing of your custom award items. No award manufacturers or trophy suppliers wouldn't start producing with your approved samples without or initial payments. This is very important. If you are dealing with licensed award manufacturer then no need to worry about your deposited payments. It is advisable to trust your awards and plaques suppliers from your heart. So make sure you need to deposit your full payments in advance or in some cases al-least 50% deposit should be sent (negotiate with suppliers) for manufacturing bulk awards & trophies.


8. Buy Solid Crystal Awards, Avoid Breakage Risk
When searching your desired crystal recognition trophy awards for your employees via supplier's website / catalogue, you may see some fancy but attractive figurines, models or sculptures that you like to purchase but if possible avoid those models. Fancy or anything thin or glued award pieces are breakable and there are 99% change of breakage during shipping. On this case manufacturers and shippers are not liable for damage that's mean you lost everything that you purchase and think about the situation of your corporate award night that may be held within 1 or 2 days? As an industry leader award supplier in USA, it is our advice, better to go for solid crystal awards which are much thicker in design. In that way, you can minimize shipping, transportation damage by 0%.


9. Heavy Award & Trophies are the Best

Solid crystal award item is much heavier in weight which is very good. Specially, to your recipients, it makes a very good impression to them when they lift heavy award in-front of hundreds or thousands of guests, audience, staffs.


10. Impress All with the Stunning Beauty of Optical Crystal Awards
Make sure your award manufacturer will produce employee awards and trophies from high quality Optic Crystal. Clear Optical Crystal is high grade pure crystal which is well-known of its gorgeous shining effect, much harder than other normal crystal and 100% clear but more importantly the custom award pieces that constructed from clear optical crystal that will sparkling brilliantly when it come to the light. We are the leading crystal award manufacturer in USA, manufacturing all of our crystal products for premium quality clear optical crystal.


11. Buy Crystalware Made of Lead Free Crystal
If you are planning to order crystal drinkware, crystal barware, crystal glassware, crystal beverageware, crystal food container or crystal drink accessories then always keep it mind that those crystal items should be 100% safe to use. In that case all these mentioned crystal products should be made from Lead Free Crystal. Lead Crystal. Lead Free Crystal items are safe to regular use as it does not contain any harmful elements.


---
12. Deal with Trusted Corporate Awards Supplier
Select your crystal award supplier very carefully as there are thousands of corporate trophy manufacturers are out there. Plenty of them are trusted, reliable and providing good quality crystal plaques, trophies and awards. Rewarding employees is a continuous process. For the goodness of your business and increase employees performance even better, you need to organize corporate award event at-least once a year or can be more than that. So, it's not good to find custom award makers before your award ceremony again and again over the years. It's just waste of time and money. So, find the best wholesale awards supplier for your award event once and try to maintain long term relationships with the wholesale trophy supplier for your next award functions.


Here are some guideline you can follow while you are searching custom trophy makers over the net. These are as follows:
Awards and Trophy suppliers should be trusted, family owned and operated.
Manufacturing custom crystal trophies and awards in their own factory.
Supplying their crystal pieces directly from their own factory.
Team consist with highly trained, skilled and experienced award designer, blown glass masters, engravers and creative graphic designers.
Providing award winning customer support.
Providing white glove service with quality control.
Supplying good quality awards, plaques, trophies at wholesale price.
Have the great ability to produce any custom design, models, shapes, figurine, sculptures in optical crystal which are available in different sizes, colors and price range.
Have No or Flexible MOQ (Minimum Order Quantity requirements).
Offering wide range of extensive lines of uniquely crafted Crystal Awards, Trophies and Plaques.
Have online product catalogue.
Maintaining membership account with distributor / suppliers profile with ASI, SAGE, PPAI, etc..
Have maintaining a good negotiable shipping rate with renowned international courier company i.e. FedEx, UPS, DHL, etc..
Supporting major payment gateway with a secure payment link for easy and quick payments.
Exporting awards and trophies all over the world.
Maintaining good production capacity to cover bulk volume order.
Keeping most popular crystal awards, crystal trophies and crystal plaques in their stock to tackle rush order deals.
Keeping product lines up to date by adding new and unique crystal award pieces into product line.
Strictly maintaining production time and deliver crystal products within fast turnaround time.
Having good feedback or customers testimonial published into their website to achieve new customers trust.
5 Star Ratings and A+ Standard Awards & Trophy suppliers and manufacturers.
13. Consider Custom Awards Option
While searching for corporate awards and trophies in online trophy shop, you will discover wide range of corporate recognition trophy awards that available in wide variety of custom themes, sizes, colors. Try to find out best trophies or awards that suits best with your award program. For example: you are looking for a specific colored crystal awards to match with your brand then then the easy steps would be to find your desired style, pick model and ask trophy suppliers send you a custom quotation of that specific awards in your desired color. In addition, don't hesitate to contact with corporate awards manufacturer and supplier, an award specialist will help you to find the best award piece for you by showing you some sample images.


14. Design Your Custom Employee Awards with Trophy Manufacturer
If you directly contact with trophy makers or award manufacturers the plus point for you is to express your custom award ideas by discussing in details of your needs and requirements with the head award designer directly. This is really important both of you as sometimes award specialist also raise some questions and also want to give you valuable advice / ideas from his/her long experience that you may agree with. The positive side of directly working with crystal corporate trophy designer is, you will get a great opportunity to working with them closely from the beginning of your inquiry to till the final finished award pieces being produced. During the production time, there may some feedback needed that can be sent instantly with no time. This is the wonderful way to design your unique awards or trophies together. It definitely save lots of time and money and final finished award items will be well beyond of your expectations that you have had imagined at the beginning of the process.


15. Consider Engraving Space
Before final selection, just to make sure that custom trophies and awards you are going to purchase should have ample room for engraving. Some stylish trophies many have small engraving area while some other awards offer ample engraving space. A good space in highly needed to personalize awards with your brand logo, images and texts. You know very well mow much space you need to keep in your custom corporate awards. If you are not sure, simply ask your trophy suppliers and they will guide you after studying all of your contents that you are interested to imprint in your selected trophy awards.


---
16. Clear Your Confusions with the Trophy Supplier
Ask your crystal trophy manufactures as many questions as you can. They won't mind it and are very friendly to give answer of all your questions. Clear all your confusions (if any) by discussing in details. Ask supplier :


Whether customization is possible of the awards you have selected?
What are the other possible colors and sizes of that specific pieces?
What will be the turnaround time?
Is there any other extra cost that may apply?
What is the MOQ (Minimum Order Quantity) of that specific award item?
Number of characters or lines will be perfectly fit in the engraving area.
Understand important procedures i.e. Shipping Terms, Payments Options, etc.
Whether you need to take the help of Professional Graphic Designers to create art work or drawings for your trophies you are planning to order. Or, award makers will do the job for you?
17. Select Accurate Awards for Right Employees
Consider Level of Recipients. In other words, we can say, you can rank your winners in three different categories. i.e. First Place, Second Place and Third Place. While order custom trophies online, choose trophies that are available in three different sizes. Which means:


Large Size Trophies for 1st Place Achievers (different departments in your organization)
Medium Size Trophies 2nd Place Achievers.
Small Size Trophies for 3rd Place Achievers.

But if you select three completely different styles for 3 levels, it may not look that perfect or may impact negative impression. Besides, you if buy second place winners with a larger size awards and reward first place winners with a smaller trophies that may also look some kind of odd.


18. Understand Custom Award Design Techniques
Understanding prerequisites of manufacturing process is a must. Before going to create custom award trophies, understand clearly about the designs, sizes, quality of crystal (Optical, Clear, Lead Free, Clear Glass), artwork, paper proof that may differ standard of trophies and quantities you are going to purchase. In others cases, you need to understand the concept of technologies that can be used by trophy manufacturers like:


2D Engraving
3D Laser Engraving
3D Laser Etched
Full Color Sublimation Laser Coating
Hand Cut Crystal Awards
Hand Blown Awards
Faceted Crystal
Beveled Areas
Hand-Crafted Trophies
Art Crystal Awards
Engraving Plates and Glued it with awards or trophies
Engravers
Etc.
19. Study Work With Award Titles
Before contact with corporate award distributor, it is important for you to finalize the "Awards Titles" first. There are reasons behind that:
---
a. Case Study One: Award title engraved on the awards or trophies you are going to manufacture. So, manufacturer will ask to provide the "Award Titles (For example: Salesman of The Year Award)" and the "Name of the Recipients" so that they can make samples or art work for you. If you haven't worked with the Award Titles yet, don't worry! We have gathered more than 100 Amazing Award Title Ideas that will make your job easier and also save lots of time. Simply, pick appropriate Title(s) that you would like to print on the awards and trophies that will be given to your employees.


b. Case Study Two: Good Award Title plays an important role in employee recognition program. Award title will carry a special meaning to guests, audience and recipients. Fox Example: When we see an attractive award in a corporate office, immediately, we are need to know for what reason this beautiful award was given to that individual. The recognition crystal awards and personalized crystal trophies you are going manufacture should appropriate with the Title that will be printed on that particular awards and also should match nicely with the theme of the awards: Let's have a look:


i. You are HR Manger of a Multinational Oil and Gas Company in USA and are planning to award your sales manager "Jennifer M. Larson" for her fantastic performance. The first task for you is to finalize the Title of the Award and it should be "Outstanding Performance of the Year Award". The second task should be to find out the theme that will be a great match with title you have selected. Let us digging a bit deeper, no one perform no way near Jennifer M. Larson. She is the only individual job done within your Oil Company. Her superb performance, hard work and dedication shines brightly always to all. Wait a Minute! We figure out, the theme could be "Oil and Gas Theme" and the appropriate award could the "Art Crystal Oil Drop Awards". If you are very keen to produce all your awards with the Oil Color then you can customize the awards into "Black Oil Drop Crystal Award"


ii. James N. Boehner working in your Car Dealership Business for only 5 years and this year he makes a sales record with a over 20.5 Million Closed Sales and more importantly he achieved it only 8 months out of 12 month time. No one able to achieve this outstanding record in your organization in 10 years. For this purpose, you can select any type of corporate trophy award from online trophy shop. That should be ok! But it would be even better if you select the theme "Milestone Achievement Awards" and find out something which express 'Reach the Goal Fast with Sheer Speed' Crystal Car Award or Crystal Racing Car Award would be the perfect choice to honor James for his remarkable Sales Achievement. When this brilliantly designed Crystal Auto Award handed over to James N. Boehner in corporate award ceremony. He will be amazed to receive this stunning crystal award from your hand in-front of thousands of guests. So, what is the final outcome?


James N. Boehner is highly praised and motivated.
Now, his clear intention is to work in a way to achieve another milestone.
Remaining employees are also inspired with this and they will also work more sincerely to win that prestigious Crystal Motorsport Trophy Award.

So, "Award Titles" should be matched with the Theme and the Design of the Award.


20. Awards or Trophies or Plaques – Make Your Decision First
Before going to make any order, you need to make sure whether you will buy Crystal Awards, Crystal Trophies or Crystal Plaques. Please keep in mind:


If you need something for recognition which is stylish in design but regular in size or shapes then buy Crystal Awards.
If you want some kind of tall and heavier piece which comes with a tall base then buy Crystal Trophies.
If you want to put any large image or texts that need much more room then buy Crystal Plaques
---
21. Decide – Trophy Awards Come With Base or Without Base
Finally, you should also keep in mind whether your award or trophies will comes with a base or without base. If come with base then what will be the base color? This is completely optional and it also depends on budget. Custom Employee Awards and Trophies has its base on the other hand it is also possible to make custom awards & trophies without base that's call Freestanding Awards / Self-standing Trophies. Both will looks good. But if you choose to add optical crystal base with your custom crystal trophies, awards and plaques then you may get some advantages. These are as follows:


A base offer more space for engraving
A base will keep your awards or trophies safe. A trophies without base may have a little chance to fall from shelf or table accidentally or by a small shake.
A base will allow manufacturer a nice color contrast that make the pieces magnificent.
Recipients easily lift the trophy to audience or guest by holding its base tightly. Base also prevents the clear transparent portions of the body from fingerprint or any kind of unnecessary spots.

Employee recognition trophies and you are going to buy should not only be gorgeous but it should be dynamic, vibrant and widely accepted. Gorgeously designed optical crystal award trophy make recipients so proud and they indents to showcasing their awards and trophies in their home or office. Besides, rewarding and motivating employees, unique corporate crystal awards help to keep memories in the long run. At the end, we understand, how important to find out the best and appropriate awards and trophies to celebrate the success of employees and business achievements. So, before dealing with custom award manufacturer, always try to remember above mentioned points and these will help you not only to select the right crystal award trophies for your upcoming event but it will also make your corporate award celebration successful. As a leading award supplier, it is our advice go the extra mile and make sure it's both stylish and grand when buying awards and trophies for any corporate event.


Corporate Crystal Award and Recognition Crystal Trophy Manufacturer, Supplier, Wholesaler & Distributor
Creative Crystal Awards the leading corporate awards manufacturer and supplier in USA. More than 4 decades we are manufacturing custom crystal corporate trophies and recognition awards in our factory and exporting awards and trophies in bulk all over the USA. We are family owned and operated business in US. If you are in search of trophy shops or wholesale crystal trophy suppliers then you are in right place. Contact us today with one of our award specialist. We are highly specializes in producing custom award, custom trophies and custom plaques that will fit with your budget and fulfill all your expectations. We have more than thousands of award samples in our product lines which are updated regularly with our recently designed crystal award trophies item. We are 5 Star Ratings Award Supplier in America. Whether you are looking for small quantities or need crystal awards in bulk, we can produce and any custom design in crystal within fast turnaround time. While dealing with us, you will find the trophies and awards we delivered are out of the mark but our prices are lower than other wholesale corporate award distributor. The awards and trophies added in our catalogs are elegant, modern, unique and attractive. Our friendly support team always ready to come up with the right information from the very beginning to till end. We believe, these are good enough to convince you and that will make you one of our permanent happy customer.