Start Black Friday shopping bash with some stylish and Personalized Crystal Awards to recognize accomplishments
Holiday season brings new occasion and chances to rejuvenate the relationships and has been practiced since time in memorial. Social gatherings and exchange of gifts refresh old ties and invites new connections. Be it in family or corporate settings, people just look for options to celebrate life. Conceivably we leave no stone unturned to enjoy life to the fullest with some tiniest chance to have fun with all around. Black Friday very close and we all will be very busy with Christmas shopping this Black Friday Weekend. Here is another change for you to give your valued clients a beautiful thank you crystal gifts and to keep your employees motivation at the best level by a stunning crystal awards and what a great way that would be to start this Festive Seasons by giving promotional gifts to your corporate clients and corporate awards to all your employees that will help to keep spirit of holiday seasons all year round. As we all knew that during Black Friday, companies like to offer big discounts and promotional giveaways. USA corporate award suppliers and promotional gift award wholesalers are offering big discounts on promotional crystal and crystal recognition awards this Black Friday. So, what a great opportunity that will be for you to order for stunning corporate awards and corporate gifts with a big discounted price this Black Friday!


Black Friday Shopping Ideas for Corporate Recognition Program
Individual brings different ideas and attitudes towards problems as well as solution and also learning experiences in the workplace. As a result, diversity in an organization develops creativity and enthusiasm among employees which needs to be managed in a fruitful way. Acknowledging individual talents and team performances is the key focused area we should take care to. Therefore recognition crystal trophies and service trophies are useful to appreciate accomplishments. However there is no other day to make a budget and shopping like a pro than a Black Friday.


Start the Christmas Shopping with Personalized Crystal Awards
Black Friday is been regarded as the beginning of the country's Christmas shopping season. Sellers and retailers sometimes open early in the midnight to attract prospective shoppers and discount on specific products. They also love promote their new products on that day as the weekend becomes long. Take this grand opportunity this Black Friday to shop some stunning personalized crystal awards for your most deserving employees, multi talented rising stars or a retiree. A crystal star award or a customized crystal globe award might make all the difference to honor their dedication and perseverance. Our Art Glass Trophy Awards range includes a selection of hand blown crystal recognition trophies and crystal promotional giftware in a variety of designs, colors and sizes.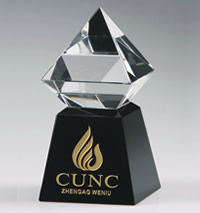 Holiday Season Shopping Fiesta
Employers should encourage employees who are potential leaders and good at team work. But sometimes managers may find it difficult to balance conflicting needs. That's why; managers should encourage co-operations early on and introduce incentives or performance awards to motivate employees. On the other hand recognizing individual talents and effort also have some tremendous effects on company's profit as it is useful to boost up employees' morale. Begin your shopping experience at Creative Crystal Awards this Black Friday! Get finest quality crystal corporate awards for your precious employees and business associates. We have the perfect optic crystals in store for you.


Crystal is a unique, luxurious and ageless gift that can brighten any celebrations and passed down from generation to generation. Just think about the pride on your most deserved employees' face when they hold crystal tower awards with their name written on it to showcase their excellence to the whole world. From the weight of the crystal to the precise hand cut design, from the signature and personalized message to the sharpness and depth of the cuts, we take care of everything in details to make each and every award a masterpiece and one of its kinds. Many of our designs remain extremely popular and continue to attract the interest of numerous organizations.


Customized Holiday Season Promotional Crystal Giftware
Holiday season is the perfect time of the year to hold annual awards ceremony where you can recognize some outstanding talents as well as motivate others to follow their footsteps. Jot down your ideas, make a budget and prepare a list of whom you want to give award to and visit our crystal award and trophy gallery to find crystal recognition awards, service awards, retirement awards, achievement awards, or corporate giftware to suit your taste, budget, and style. Our trademark is superb craftsmanship, extraordinary designs, and clean, sleek lines which are clearly evident in every piece of crystal award.


Traditional boss-employee relationship is no longer valid today. As the head of the department it is mandatory to recognize employee's passion and needs which will eventually help to motivate them to do their best and will give birth to new ideas. An elegant crystal trophy award will definitely show individuals their value and contribution towards an end goal. We have a large array of crystal plaques and corporate awards for all your corporate recognition needs. We have crystal corporate trophies and art glass awards to represent true gratitude and appreciation to your dedicated ones. Whether you're looking for classic corporate glass awards or an artistic and unique designed custom glass trophy, we can meet your need to be the most popular in the corporate sector.


Black Friday Awards Celebrations with Finest Quality Optic Crystals
Nowadays the Black Friday and Cyber Monday have become an essential part of the holiday season shopping calendar. If you are looking forward to promote your new products it might be the true option to send crystal promotional gifts to prospective customers and advertise your brand. Along with customized crystal corporate awards we have the knowledge and expertise to offer a huge range of sports trophies as well. Always be careful though: there are plenty of fake offers and crystal items to be found on everywhere. As fraudsters create attractive looking deals to grab customers. We guarantee our glass and crystal awards offer a sophisticated way to recognize your employees and other worthy recipients for their exceptional service and contributions to the venture. Visit our online shop to get high quality optic crystal awards and elegant glass trophies personalize with your own text to recognize Individual accomplishment and achievements.


Brilliant Quality Custom Crystal Awards from our Factory to your Door
https://creativecrystalawards.com big name in Corporate Award Industry in USA. Over 40 years we are manufacturing finest quality optic crystal trophy, glass crystal awards and promotional crystal items and supplying to large multinational companies in USA and around the world. I you are looking for wholesale corporate award suppliers for Holiday Award ceremony or Year End Award ceremony then Contact Us now for instant quotation. Our experienced award specialists will get back to you and help you to make your vision into reality with our stunning crystal awards and trophies. This Black Friday https://creativecrystalawards.com/ like to offer you FREE Shipping, Free Engraving, Free Gift Box and Free Setups for all your Bulk orders (Min order required). To get this big deal use Promo Code: "BLACKFRIDAY"


Have a Happy Shopping
CreativeCrystalAwards.com


#crystalAwards #crystalTrophies #crystalGifts #glassAwards #glassTrophies #artGlassAwards #promotionalGifts #corporateAwards #corporateGifts #crystalPlaques