Personalized Crystal Plaques are an elegant way to recognize employees for their special achievements. An engraved crystal plaques will present your brand name while simultaneously awarding your team, employees, clients and business partners alike. A custom crystal plaques are a lasting symbol of corporate and employee recognition. There are many other wonderful ways available you can think about to reward your employees. For example: awards, trophies and plaques. If you want to tell your employees how special and important they are for your organization then personalized crystal award plaques can do the trick for you. Every time your employees or clients see a unique crystal plaque award, they will know their dedication and exceptional effort is appreciated.
Crystal plaques are one of the most popular employee recognition award option than other traditional plaques. Optical crystal plaques are gorgeous, modern, sleek and corporate but the main benefit is recognition plaques will provide ample engraving space than any other regular crystal awards & trophies. A customized crystal plaques can be personalized with very long personalization phrases and even blank crystal plaques can be 3d laser etched with favorite photograph or can be engraved with colored image using sublimation printing technology. That's mean a sublimation photo crystal plaques also works as crystal photo frame that will looks superb on any office desk or shelves. Besides, a custom crystal plaques carved into wide variety of shapes or models. i.e. circle shaped crystal plaques, triangle shaped crystal plaques, wedge crystal plaques and crystal iceberg plaques, etc. You will see full range of crystal plaques here.
In modern days, the usage of clear glass plaques as getting more popularity as employee plaques will fit with many of your recognition award or corporate award presentation event. A personalized crystal award plaques can be used for wide variety of occasions: including: achievement awards, recognition awards, appreciation awards, service awards, sales awards, accomplishment awards, graduation awards, teamwork awards, retirement awards or any other special service with grace and good intention.
Engraved crystal plaques are the great recognition ideas specially when you want a simple but high-quality way to create personalized crystal plaques for employees, business partners, boss, co-workers, teacher, educators, pastor, volunteers, doctors, dealers or another important persons working in your organization.
Creating impressive crystal plaques and awards to recognize important people in your life has never been this simple. Creative Crystal Awards, the leading custom plaque makers in USA, wholesaling crystal plaques small companies to large multinational companies to fulfill their recognition needs. We have thousands of unique crystal plaques offers you the opportunity to create your own personalized, professional award for the persons or individuals you wish to recognize. From our enormous collection of crystal plaques:
We handpicked 7 Fantastic ideas of Crystal Plaques that you like to buy for your next employee award ceremony event
This optical crystal book shape plaque award is the perfect way to show appreciation to that distinguished individuals, pastors, teachers, educators, graduates, scholars, book writers and special person in your life. The book crystal plaque is a wonderful replica of bible. That's mean, besides employee recognition this custom crystal book plaques can be used as an appreciation plaque award for pastors, perish council members, church priest, etc. We produce this fantastic crystal book awards from high quality optic crystal that features a solid crystal book sculpture stands on a clear rectangle crystal base. This crystal book figurines plaque awards has enough personalization area which can be deep etched with silver color fill. The book shaped crystal plaque award is one of heavy crystal plaque award in our product line.
Book Shaped Crystal Plaque Award
Sublimation printing is undoubtedly in demand in modern days. If you are planning to put your favorite photo while going to manufacturing custom plaques for employees either as a recognition gift awards or giveaway then coated sublimation crystal plaques are the perfect recognition option for you. Personalize your employees recognition award with colored image or graphic using sublimation crystal plaque award. Full color sublimation photo crystal award plaques are one of stylish way to recognize your employees and business clients. This sunflower crystal plaques makes your photo or design really stand out. Our sublimation crystal award plaque features a round crystal sunflower plaque with a separate black polygon shaped crystal base. The back panel of this round crystal plaque is flat and white with sublimation coating so you can print directly using a flat heat press or vacuum press. Optical Crystal sublimated plaque is the perfect for customized crystal gift award or corporate giveaways, plaque of award and appreciation.
Full-color Sublimated Crystal Plaques
Show your honor and gratitude to your top achievers with this brilliantly hand-crafted Clear Crystal House Shaped Plaque Award from Creative Crystal Awards. This house shaped crystal award plaque is constructed from thick premium quality optical crystal and hand polished brilliantly to give it a superior finish. Personalized crystal house plaque awards make the perfect employee plaque award specially for real estate business, construction company, housing industry, realtor, property broker, property developer, real estate agency, real-estate industry, housing society, real estate dealers, bank and home insurance company. This elegant Greek house shape crystal plaques is perfect for any of your employee recognition event or corporate function. We wholesale cheap clear blank crystal glass house shape award plaques for business souvenir gift.
House Shaped Crystal Plaque Award
Choose this fantastic Custom Crystal Apple Shaped Plaque Award to honor special employees within your organization. The apple is a symbol of knowledge and wisdom. Our craftsman symbolized it brilliantly within this optical crystal apple plaque award that creates a long lasting reminder to its recipients. This apple crystal award plaque produced from finest quality optic crystal that features a flat crystal apple shaped plaque with a green crystal leaf sits together on a black crystal base. The apple shaped award plaque is a stylish appreciation gift for teachers, educators, principal, headmaster, professors, volunteers, graduates, students, scholars, doctors, healthcare workers and employees who are working in health industry, farming or food professing industry. This glass apple plaque can comes in customizable shapes, colors and sizes.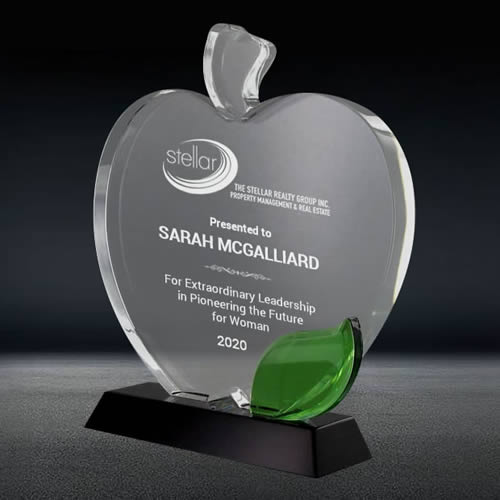 Optical Crystal Apple Plaque Award
Recognize your employees with this impressive Crystal Heart Plaque Award that will tell them how much you care and love them. This gorgeous pink crystal heart shaped plaque keepsake to symbolize that they have your heart. Our crystal artist hand-crafted this heart crystal award plaques from flawless optic crystal that features a pink crystal heart figurine rests on a pink crystal base. This crystal love shaped award plaque has ample engraving room for personalization. It's a perfect crystal recognition plaques for Valentine's Day, Mother's Day, Teacher's Day, International Women's Day or any other special occasions. Would be a great appreciation plaque for healthcare industry, donor agencies, volunteer organizations, charity or non-profit organizations. Our crystal heart award plaque available in customizable sizes and colors.
Heart Shaped Crystal Plaque Award
We produced this brilliant Crystal Flame Plaque Awards to recognize those dedicated top achievers who ignite in others a passion for success. The eternal flame, the fire of passion, the warmth and practical help from a fire; all of these feelings can be embodied in flame crystal plaques as recognition awards. Personalized flame shape crystal award plaque give it a special meaning for the recipient. This stunning flame crystal plaque award in entirely constructed form superior quality optic crystal, features a smooth beveled edges clear crystal flame figurine sits atop a oval shaped clear crystal base with a flat surface. Sharp edges will spark brilliantly from every angles and will shine brightly when it catches the light and change its position. The clear glass flame plaque provides a huge engraving space as both the flame plaque and the base can be personalized with your congratulatory message, brand logo and recipient name. This crystal flame plaque award would be an elegant recognition plaques perfect for leadership awards, retirement awards, sales achievement awards. Great for fire fighting industry, multinational oil and gas industry. It can sit proudly on recipients desk or shelf and they feel really proud to show the world that their efforts were very well appreciated and it have been recognized by their boss by displaying this attractive flame theme crystal award plaque. In addition to this, you can check these 6 Fantastic Ideas of Crystal Flame Awards & Trophies
Crystal Flame Award Plaque
Choose this Black Crystal Diamond Plaque to recognize your top performers and special achievers within your organization. This exclusive optical crystal diamond shaped plaques is hand-crafted with the fine quality crystal and provides the elegance of a crystal award that's stands out. Elegantly beveled black optic crystal diamond shaped plaque gives a very stylish recognition award to show off greatness. This diamond shaped crytal plaques has generous engraving area that helped to display your band logo at the top of this diamond peak plaque award. Our crystal diamond shape plaque is available in three size and can comes in customizable colors. One of the prestigious crystal corporate plaque in our product line and it will surely add a touch of class and elegance when it put on any office desk or shelves.
Diamond Shaped Crystal Plaque Award
Looking to Purchase Custom Crystal Plaques in Bulk? Contact with our Recognition Plaque Designer
While you are planning to purchase engraved crystal plaques for your next corporate awards presentation ceremony, after choosing the right recognition plaques then you may need to choose recognition wording examples to personalize your crystal plaques. Here you will find:
.
Custom Crystal Plaques Manufacturer & Supplier in USA
CreativeCrystalAwards.com the best crystal plaques manufacturer in USA. We have more than 4 decades of proven experience in producing achievement plaques mainly from optical crystal and high quality clear glass. While browsing our crystal plaques category, you will see more than 1000 unique ideas of corporate plaque awards which can be customized according to your needs and requirements. Whatever the occasion and whoever the recipients are, our custom plaques will surely impress them. We are best custom plaque makers in USA, specialized in designing custom shaped award plaques within budget range. We are manufacturing crystal plaques at our own factory and supplying custom glass plaques at factory direct prices. If you are searching for custom crystal plaque supplier to supply crystal plaques in bulk then feel free to Contact Us today. We are the 5 star ratings family owned business and trusted corporate award suppliers in USA. Whether you need buy engraved plaques in small quantities or need to manufacture personalized plaques in large quantities. We can supply you any quantities of corporate plaques, promotional plaques and sourcing blank plaques within fast turnaround time. Besides, we have flexible MOQ and bulk discount rates that mean the more crystal plaques you buy from our online award store the more discount you will earn on total price. Join us today for any of your presentation plaques needs and you will be amazed by seeing the creative designs and the quality of craftsmanship delivered to your door directly from our crystal award factory.