It's not about adding profit to your business but adding life to your production. So how to make it look promising at any time? Often it starts with a single move.
The Crystal Tower Award is great ways to thank men who are making differences
Researchers found, those who carried out an outstanding result in their business repeatedly practice some set of laws to shine and prosper. Mostly the investment in the thinking system and renovate working environment. Put away the boredom and work pressure is the solid base to make creative ideas and execute some revolutionary actions. As the head of the organization you also need to work on it and create such atmosphere that your employees could enjoy and open up. Persons that totally dissolves them in that frame works get pleasure from success always. It may sound illogical but to have those kinds of obedience you must recognize their hard work which not only boost up their morale but increase their work potential and capacity. Our stunning and graceful crystal tower awards make an excellent award for recognizing those who have exceeded expectations.


Color Crystal Tower Awards
Tower Crystal Employee Recognition Awards
It's amazing how much you can accomplish when you are not glued to some primitive ideas and habits. New technologies make our life more comfortable and convenient in the same way new ideas and thoughts will help us to throw away the past nightmares and failure. Need another reason to get your success out? Compile a brand new list of projects and beyond some traditional strict regulations, create an enjoyable office environment where your employees could work with full freedom and confidence and practice their multi faceted imagination. Grow such confidence in them so that they could believe in themselves and snatch out the best. How? Answer is simple. Give them the challenges and recognize their commendable performance to motivate to hit the right track. Our crystal pillar awards are perfectly fit for such kinds of employee recognition awards and incentive programs. These tower shaped awards and crystal column awards are the ultimate choice for any corporate award events from service awards to promotional gifts which will give recipients the ego boost they need, and your company the spotlight it requires.


Star Tower Crystal Awards
Custom Crystal Tower Awards to celebrate the Academic Achievements
Nowadays teachers do not teach but acts as facilitator and guide to the student. Teaching learning environments reaches to a new horizon where teachers create enthusiasm among students and learners acquire knowledge by themselves. Most important is to motivate them rather than lecture on bookish aspect. So to achieve this goal it's highly recommends recognizing their capability and thereby rewarding them on their obtained performance. Academician has already started to work on this and as a continuity of awarding academic achievements many institution now give awards to the students who excels in various pedagogic fields and sports. If they get the appreciation according to their eligibility different skills such leadership, work in group, make sensible decision, creativity and many more intellect sector will grow up and flourish. CreativeCrystalAwards.com would also suggest crystal tower trophy awards are rightly fit for such celebration of scholastic aptitude and knowledge. Many universities are now choosing tower awards to honor their over 300 students and to motivate them to practice their passion. On that note we can also add those extraordinarily brilliant undergrad and graduate 2400 students who have received personalized crystal tower awards in recognition of their contribution and dedication to the world learning hosted by education services. Hats off to their hard work and determination!
Optic Crystal Pillar Awards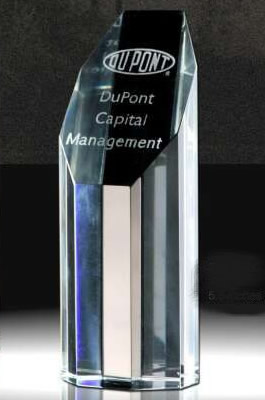 Personalized Tower Crystal Awards & Trophies
The magical crystal tower trophies are for employees who think out of box and shine above everyone. That's why nowadays employers utilize recognition awards to promote devotion and pride in work and achievement. Present your employees with an engraved crystal tower award they can display on their desk or a custom crystal obelisk awards to show your appreciation to a donor. These are very popular awards and have been used for many corporate awards including Sales Awards, Leadership Awards, Customer Service Awards, Dealer Awards, Membership Awards, Rising Star Awards, Corporate Promotional Gifts, Business Partnership Awards, Top Performer Awards, Top Sales Person Awards, marketing and many more. On the other hand a long crystal column trophy awards is rightly suitable to deep etch your message, company name and logo with recipients name. Made from a superior material these flawless corporate crystal awards come along with brilliant blue or transparent color and beautifully accented with creative touch.
Optic Crystal Tower Trophy
Promote your Company with logo Engraved Crystal Tower Trophy Awards
Decorate your recognition award program with the majestic corporate crystal tower awards. This exclusive design is sure to catch the eye of all audiences and recipients.
CreativeCrystalAwards.com have a large selection of
Crystal Heart Column Awards
Crystal Obelisks
Glass Obelisks
Blue Crystal Tower Awards
Crystal Pillar Awards
Crystal Column Awards
Glass Tower Awards
Diamond Clip Crystal Awards

and many other custom tower shaped crystal awards and trophies available at wholesale price ready to engrave for your upcoming corporate award ceremony.
Our optic crystal obelisk awards and clear crystal pillar awards are made from the premium quality optic crystals can be engraved to your exact requirements. In addition you could use them as a promotional corporate gifts and custom each and every corporate tower trophies with your company logo to give the exposure they need. These stylish Crystal tower awards are an excellent option to promote your brand in a grand manner. After all, a tall and elegant optic crystal column trophy awards will always display your mission and vision everywhere.
Tower Crystal Sports Awards
---
---
Personalized Crystal Towers & Crystal Towers Obelisks for Employee Recognition
Our lustrous and awe-inspiring corporate crystal tower trophies and crystal obelisks feature faceted edges and extraordinary design and styles. These ageless tower crystal trophies can be personalized with logos and text as per your need. CreativeCrystalAwards.com always use brightest lead-free crystal materials existing, this whole range of perfectly clear optical crystal towers, crystal obelisks, crystal pillars, crystal cylinders, crystal columns and other shapes will stand proudly in your recipient's desk or show case and recognize their ability and make them feel appreciated and motivated to bring out their best performance and dedication into the workplace!
Engraved Corporate Crystal Tower Award and Tower Trophy Collections
Digital life is full of test and options. Persons who love to take challenges could meet them often and encounter the odds always. This is just about to focus on the right switch which will light up the soul inside and snatch out the result naturally. With our hand crafted finest quality crystal towers and crystal pillar trophies we are doing exactly the same to recognize the skill of your employees and inspire them to go beyond their aptitude. Vividly taller than its width, a crystal tower award rises tall with an engraving area that is superb choice for company logos and lines such as a name, date and message. Dedicated to your trust worthy employees we are manufacturing and supplying:
Tower Crystal Trophy Awards
Crystal Diamond Tower Awards
Crystal Hexagonal Tower Award
Crystal Cylinder Tower Awards
Crystal Summit Tower Awards
Crystal Obelisk Award
Crystal Obelisk Tower Trophies
Crystal Globe Tower Awards
Crystal Star Tower Awards
Wide Obelisk Tower Trophy
Diaquad Crystal Towers
Faceted Optic Crystal Tower
Super Diamond Crystal Tower Award
Hexagon Tower Crystal Award
Crystal Octagon Tower Awards
Diamond Tower Crystal Achievement Awards
Octagon Slant Top Crystal Tower
Crystal Diamond Pillar Award
Soaring Star Crystal Tower Award
Star Recognition Crystal Tower Trophies
Presidents Tower Crystal Award
Crystal Obelisk Heart Tower Award
Crystal Globe on Tower
Twin Tower Crystal Trophy
Golf Tower Crystal Award
Blue Tower Crystal Award
Crystal Tennis Tower Trophy Awards
Volleyball Crystal Tower Trophy
Tennis Crystal Tower Trophy
Crystal Football Tower Trophies
Crystal Baseball Tower Trophies
Gem Crystal Tower Award
Crystal Peach Series Tower Awards
Curved Column Crystal Globe Award
Crystal Golf Ball Tower
Dice Tower Awards
Custom Crystal Tower Years of Service
Crystal Heart Tower Award
Heart Shaped Optical Crystal Cylinder Tower Appreciation Award
Crystal Cylinder Tower Award
Crystal Cathedral Tower Trophy
Unite Pool 8 Ball Crystal Tower Trophy and
And many other custom shapes available to manufacture upon request.
Graceful crystal tower awards are always exclusive and an ideal choice to recognize and honor for various corporate and special achievements. Such as


Tower Trophies for Sports Tournaments
Recognition Tower Awards for Top Sales Person
Tower Awards for Construction Companies
Star Tower Awards for Top Performers
Crystal Tower for Highest Achievement Awards
Tower Awards to Honors Top performing students
Tower to honor top Dealers / distributors
Tower Award for Man of the Year
Tower Award for Women of the Year
Tower Award for Top Donor of the Year
Top customer service
Top Honor Top Brands
Top Honor Top Suppliers
To Honor Top Manufacturers
To Honor Top Exporter
To Honor Top Importer
Wholesale Crystal Tower Awards and Trophy suppliers
CreativeCrystalAwards.com is big name in wholesale corporate crystal award manufacturing and supplying. We have over 35 year experience in manufacturing custom tower awards. Our product line consists with finest quality corporate crystal tower awards and custom crystal tower trophies. If you are looking for some gorgeous crystal awards and crystal trophies then you probably couldn't find any other best wholesale crystal award suppliers than us. Our experienced crystal artisans can produce any types and shapes custom tower trophies according to your requirement and our experienced Graphic Designer will design beautiful art work to make your award prices beautiful. But the important thing is Creative Crystal Awards are highly capable of manufacturing any quantities of bulk awards because we have our own crystal factory and we directly shipped from our factory to your door that's mean you will get your bulk awards and trophies at wholesale price. Our promise to you is we always quote cheap wholesale price and all your awards and trophies will come to you inside beautiful elegant Free Gift Box beautifully engraved by your logo Gold or Silver foiled. Which we like to give you completely free when you give us order for your awards, trophies, plaques and corporate gifts.
So, don't hesitate! CreativeCrystalAwards.com are here to be your number one wholesale corporate award and trophy suppliers. Contact Us to get a Free instant quote.
#crystalTowerAwards #crystalTowerTrophies #crystalObelisks #crystalPillarAwards #crystalColumnAwards #crystalAwardWholesale #crystalAwards #crystalTrophies