Pink crystal awards would be an ideal options when you are planning to honor female business women, female executives, female employees, female teachers or female staffs. A very special color that every women in the world like the most and always intends to get the products which have a great mixture of their favorite color pink. There are several thousands of female professionals working in different types of business organizations around the world. So, if you are planning to recognize female employees or staffs in your corporate award events for their top achievements or best performances then why not think about to order that special pink crystal trophy awards for her. Besides, if your company particularly providing female related services for example: women's spa, women's saloon, women's dress, women's beauty parlor, women's fitness club, women's gym, women's clinic, women's bar, women's education, women's club or so on then you might have hundreds or even thousands of female customers taking your services. If so, then in your next corporate promotional programs, better to buy pink crystal corporate gifts for business clients that will help you to win her heart and make them permanent clients for your business.


We bring you the stunning collection of pink accented crystal awards and pink optical crystal promotional gifts that you would like to buy for your employees recognition award programs or promotional needs.

1. Pink Crystal Heart Awards: Give your employees a heartfelt appreciation with this stunning pink crystal heart award. Our pink crystal heart trophy award produced from high grade optical crystal. You will find our pink crystal heart shaped awards available in two different sizes. In addition, for bulk volume crystal heart trophies, we would be very happy to produce different sizes according to your needs. This elegant pink crystal heart plaque awards have plenty of room from engraving. A cost effective corporate award option that specially designed to recognize your best female employees and women executives.



Pink Crystal Heart Trophy Award

2. Pink Crystal Obelisk Awards: Another brilliant crystal recognition award option to reward your female employees in your organizations. This simple but elegant pink crystal obelisk award would be an appropriate award you can give those women entrepreneurs, women in business, female teachers, female athletes, actress and other female professionals. If you are planning to reward large group of female employees then this pink crystal obelisk trophy could be the best choice for you that will nicely match with your budget.



Pink Crystal Obelisk Award

3. Pink Crystal Ladies Heel Shoe Award: If you want to recognize your special female employees or executive with something unique and super gorgeous then the ideal award options would be our pink crystal ladies heel award. This pink crystal award is really unique in design. Made from finest quality optical crystal. This pink crystal ladies pumps award is very large and heavy, also have ample room in the large base for engraving.



Pink Crystal Ladies Heel Award

4. Gem Cut Pink Crystal Paperweight: This gem cut pink crystal slant paperweight gift awards will give any office desk a stunning look. A beautiful corporate crystal gift specially designed for your female clients, staffs and executives. All of our gem cut slant dome paperweight comes with a elegant gift box.



Pink Crystal Faceted Paperweight Corporate Gift

5. Pink Crystal Diamond Paperweight: Every women in the world wish to get or to own a diamond which is very precious thing. But you can easily surprise your female employees and female customers by giving them our beautiful pink crystal diamond paperweight corporate gift awards. Truly a fantastic crystal gift item and your female recipient would definitely will love to receive this precious recognition gift from you. This diamond shaped crystal paperweight made from fine quality optic crystal and each pieces will comes with a beautiful presentation box.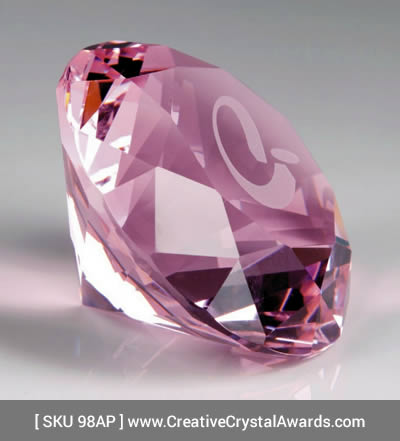 Pink Crystal Diamond Paperweight Employee Gift
6. Pink Crystal Heart Paperweight: Our diamond faceted pink crystal heart paperweight is gorgeous enough to beautify any office desk. Beautifully hand cut by our artisans. You can offer this heart shaped pink crystal paperweight corporate gift award to your corporate female client and female employees as a part of your promotional programs. If your budget is tight but at same time if definitely want to buy something valuable appreciation gifts for your employees or customers then try with our faceted pink crystal heart shaped paperweight gift awards.



Pink Crystal Heart Paperweight Office Gift

7. Pink Crystal Round Paperweight: This pink crystal round paperweight would be an excellent gift awards specially for your female employees and female executives. The portion of this gem cut of this round crystal paperweight will shine brightly with flashes of light. Definitely a fantastic office desk gift item you would like to order for your employees and premium clients.



Faceted Round Pink Crystal Paperweight

8. Faceted Pink Crystal Ornaments: We bring this unique gem cut pink crystal ornaments for non profitable organizations, charity, volunteer organization, women's club, national and international NGO's and specially for those companies who are very closely working with various women's health related programs. This pink optical crystal ornaments especially designed for women's breast cancer awareness program but you can also give this beautiful pink accented crystal ornaments to those women who are doing the volunteer work or other women's health awareness programs for your organization. A cheap crystal promotional products, you could thing about for various women's awareness events.



Diamond Faceted Pink Crystal Ornaments

9. Pink Optical Crystal Square Paperweight: This stunning pink accented square crystal paperweight would be a great addition to our employees office desk. Besides, if you are planning to give all your female employees a special gift for all their hard work and dedication then you can try our pink crystal beveled paperweight. Furthermore, may be you are thinking for a cheap promotional crystal gift items for all of your corporate clients then buy this amazing crystal promotional products online and female recipients really love to receive this from you which comes with a nice presentation box.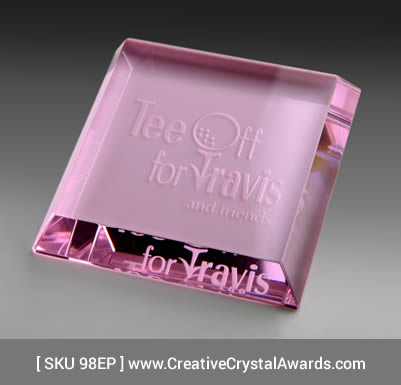 Beveled Pink Crystal Square Paperweight

Creative Crystal Awards is the big name in the corporate crystal award and trophies manufacturing industry. Since 1982, we are manufacturing crystal trophies and awards in bulk and supplying crystal awards, plaques and various crystal promotional products at wholesale price. We are best wholesale corporate award supplier in US but we are producing custom crystal awards for large multinational companies around the world. In our extensive lines of crystal awards, you will find huge number of crystal corporate gift awards which are more unique in design, relatively cheaper than other crystal promotional product supplier but more importantly you will find all our custom crystal trophy awards made from fine quality optical crystal. If are in search of custom award & trophy manufacturer for large number of awards, trophies, plaques and corporate gifts then call us today for any of your personalized crystal award needs. We will delivery you the quality crystal recognition gift awards at fast turn around as low as wholesale price time that not other awarding company wouldn't be able do the same except us.