Employees are the great assets for any organization. Motivated and skilled workforce will help a company to reach it's goal. An experienced employees and staffs who have been working with a company since long are even more valuable than skilled and motivated team. A business organization can take great advantages from employees who are working in 5 years, 10 years / 15 years / 20 years / 25 years / 30 years / 35 years / 45 years / 50 years. Take a moment out of your busy day to think about all those staff who serve you with loyalty and dedication. Many teams count the numbers of years they have been working at a company. So, it is very important to make every work anniversary successful and you can achieved this with personalized Crystal Years of Service Awards.
Years of Service Awards, Employee Milestone Awards, Work Anniversary Awards. Whatever you call, the main idea is honoring your employees for their loyalty and commitment to your organization. Employees long service awards deliver tremendous results. It will create motivated and dynamic team and it will let employees know how valuable they are for your organization. So, celebrating employee milestones anniversary and work anniversaries is a great way to showcase your positive energy and spread team spirit all around. It's also a way to strengthen your company's financial position, because a stronger work culture leads directly to stronger employee engagement.

Years of Service Crystal Award is one of the most elegant corporate award ideas designed to recognize loyal employees for their contributions and commitments. So, it is a good practice to recognize employees when they hit a specific work anniversary (5, 10, 15, 20, 25, 30, 35, 40, 45, 50+ years of service) with brilliantly crafted employee work anniversary plaque or custom crystal service trophy award. Creative Crystal Awards, USA's leading supplier of custom corporate awards, trophies and plaques for many recognition events. Our Crystal Years of Service Awards contains exquisite selection of Crystal Employee Service Awards, Years of Service Crystal Plaques and Crystal Years of Service Trophy Awards which are comes in unique designs, custom shapes and different price range that will perfectly fit with your needs. Companies searching for years of service awards or years of service plaques now have new and modern choices that honors employee for the length of their service. In our modern society, it's becoming rare that employees dedicate an entire lifetime to one company. For your dedicated employees, these custom crystal years of service awards are a way to say Thank You!
from our Crystal Service Awards section that you would like to purchase to reward employees in your upcomming work anniversary program or corporate anniversary event.
Recognize high-performing employees for 10 years of service in a company or organization with this fantastic custom 10 shaped crystal years of service award. The crystal service award features a thick, solid crystal from into a Number 10 shape that mounted a top a heavy clear crystal base and there is an additional green crystal rectangle plate nicely placed in between of crystal 10 figurine and clear base that create an eye-catching crystal anniversary award that will surely blow your recipients mind. You will find a number of colored glass and optic crystal awards are available in our stock for employees celebrating 10 years work anniversary.
Crystal 10 Years of Service Award
Involve employees in your 5 years corporate anniversary program and reward those 5 year milestone achievers by giving this splendid 5 years work anniversary crystal trophy award. These optical crystal 5 year service award will motivate those achievers and tell them all their hard work are being acknowledged, appreciated thus rewarded after 5 year of commitment and dedication. This beautiful employee anniversary award features a slightly tilted clear crystal 5 sculpture sits atop a clear crystal base. Perfect milestone award can be used for both corporate anniversary and employee work anniversary event.
Crystal 5 Years of Service Award
This fantastic clear crystal 10 year employee service trophy award is the great recognition idea can be used to reward employees for their 10 years of service, hard-work and commitment. Constructed entirely form superior quality optic crystal. The years of service anniversary award features a tilted crystal 10 mounted atop a clear crystal base. Your recipients will be delighted to receive this from you in front of guests, employees and staffs at your corporate presentation ceremony. An excellent crystal anniversary gift award perfectly fit with any desktop.
Crystal 10th Years Service Award
Those employees who are working sincerely and honestly for 20 years are truly a great assets for your organization. Your employees exchange their time for work that helps your organization succeed. This dedication deserves to be recognized on a regular, timely basis. On this regards, crystal 20 years of service awards would be the best way to show recognition and appreciation for the significant milestone they achieved. Creative Crystal Awards, proud to create this magnificent 20 years of service anniversary award features with a clear crystal number 20 mounted atop a large and heavy green crystal base. The beautiful combination of clear and green crystal makes it a brilliant looking 20th anniversary gift award appropriate for any corporate anniversary or employee work anniversary presentation event.
Crystal 20th Years Work Anniversary Award
Recognizing individuals, dedicated employees, volunteers or staff who have contributed 25 years of service with this stunning 25th years crystal service award from Creative Crystal Awards. This beautiful 25 year employee long service award produced from thick, solid and clear optic crystal hand-cut beautifully to give it the shape of numeral 25 which sits on top of a large clear crystal base for personalization.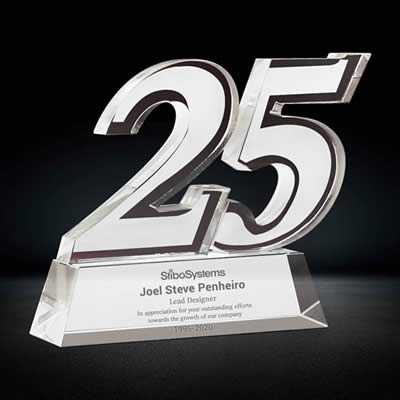 Crystal 25th Year Anniversary Award
Do you have loyal employees who are working in your organization for more than 50 years? If yes, then you are one of the lucky employer can proud yourself to have that kind of sincere and honest peoples who guided others employees and staffs leading from the front. As an employer, you need to show your honor and gratitude to employees and staffs who have dedicated themselves and served your organization well for many years. Employee long anniversary awards are critical for recognizing hard work. Whether you're looking to honor a loyal employee or a service person that has served for many years, personalized crystal 50 years service plaques would be the most appropriate option you can think about. Choose our crystal 50th anniversary plaque for your next long service award ceremony. Our craftsmen shows their creativity while creating this spectacular crystal service plaque award. The award features a faceted diamond peak crystal block along with a 3d blue crystal 50 numeral stands on a black crystal base. This is a handmade crystal plaque and hand polished beautifully that will catches and reflect the light. One of the heaviest crystal plaque in our collection. This custom crystal service award plaque offers ample engraving space that will help you to put your congratulatory message, text and brand logo in a stylish way. Truly an outstanding longevity award that will surely WOW your recipients.
50 Years of Service Award
Have a look at these 7 Gorgeously Designed Diamond Shaped Crystal Awards & Plaques that can be customized for any employee anniversary ceremony
Creative Crystal Awards specialized in manufacturing Custom Service Awards at the factory selling prices. More than 4 decades, we are supplying custom crystal trophy awards and plaques directly from our factory. We are the family owned and 5 star ratings custom awards & trophy suppliers in USA. Our product line consist with more than thousands of modern style corporate awards, recognition plaques, sports trophies and blown art glass trophy awards. We have experienced glass masters / crystal artist, skilled engravers, expert graphic designers and award winning support team. We are capable of producing large quantities of trophies & awards withing fast turnaround time and we do ship entire USA and all over the world. Besides, We have very flexible MOQ and bulk pricing discount option. If you are looking for custom trophy manufacturers or recognition plaque makers then don't need to look further. Contact Us today and share your ideas and requirements with one of our expert. We are your local award maker and our teams are always right here awaiting to give you the information you needed from us. We have secure and easy payment system and we are maintaining good negotiable shipping rates with FedEx, DHL, UPS and other international courier and shipping agents. Each time you take custom awards in bulk, in returns, we will give you free shipping, free gift box, free engraving and free setups. The quality of work and experience you will receive from us will totally satisfied you.